Encyclopédie Marikavel / Jean-Claude EVEN
England

Bro-Saoz

Devon

Bro Dumnonia
Hartland Point

Herculis Promontorium
page ouverte le 16 novembre 2004
forum de discussion

* forum du site Marikavel : Academia Celtica

dernière mise à jour 10/09/2009 13:26:58

| | |
| --- | --- |
| Définition : promontoire de Grande Bretagne, en Devon. | |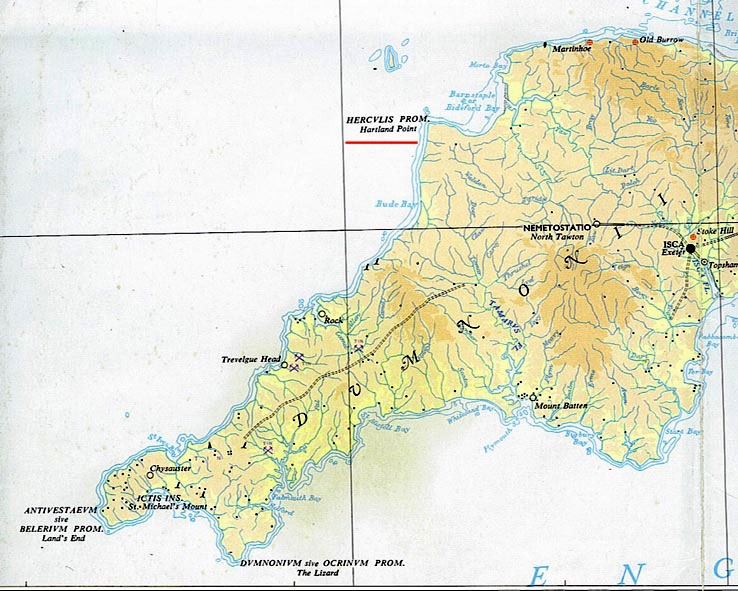 Extrait de la carte Ordnance Survey : Map of Roman Britain.


Étymologie.
* Rivet & Smith :
- Ptolemy, II,3,2 : Erakleous Akron ( = HERCULIS PROMONTORIUM)
"Presumably, like other names on the coast important to seafarers, this was assigned by roman or Greek sailors. The name of Hercules is frequent in such names in the ancient world : see indexes to Miller (1916), texts of Pliny, etc. Such places in Britain presumably had native names, not know to us in this case".
NB JCE : Erakleous Akron = Erakleous Akron

Sources :
* Eilert Ekwall : The Oxford Dictionary of English Place-names.
* A.L.F. Rivet & Colin Smith : The Place-Names of Roman Britain.

Liens électroniques des sites Internet traitant de Hartland Point / Herculis Promontorium :
* forum du site Marikavel : Academia Celtica
hast buan, ma mignonig

vas vite, mon petit ami
go fast, my little friend